The Queen woke early the next morning as it was the day to harvest the Brussels Sprouts. She thought of all the wonderful meals that she would make for the King, scrambled eggs and Brussels Sprouts for breakfast, Brussels Sprouts sandwiches for lunch, and the best of all, roast pig stuffed with Brussels Sprouts for dinner.
When the Queen arrived at the field, she saw to her horror that all the Brussels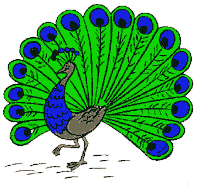 Sprouts were gone. The Queen raced back to the castle to tell the King. The King ordered the Royal Guards to search the kingdom for the culprits. They did not have far to go, for there in the woods, at the Peacock's camp, were all the Peacocks fast asleep, too stuffed with their ill-gotten gains to move.
The Peacocks were brought before the King. The King, after consulting with the Great Wizard said, "Since the Peacocks ate the Brussels Sprouts, they cannot be returned, therefore the Peacocks must give the Queen something of equal value." The only thing that the Peacocks had was their tail feathers. So it was agreed that the Peacocks would give them up.
Each Peacock came forward and gave up his tail feathers until finally the only one left was the leader of the band. His was the most beautiful of the group and his pride and joy. No longer would he be able to strut up and down for everyone to admire. The King then had the Royal Guards escort the Peacocks out the gate, and banished them from ever coming back to the Kingdom of Stark.
To this day, visitors to the Castle can see the Peacock feathers displayed on the walls of the great hall.
End of Story