One day, Hughie was in the garden tool shed checking to see if all the tools were in their proper place, when someone locked the door. As hard as he could try he could not get out. Later that day when the King and Queen were sitting down to lunch, the King said to the Queen, "Have you seen Hughie?" "No I haven't and that is very strange," said the Queen. "He is usually in his bed by now, sleeping". As the day wore on they became concerned. All the King's horses and all the King's men could not find Hughie.
As a last resort the King decided to consult the Great Wizard. The Wizard questioned the King about Hughie's actions over the last several days. Then he went to the Royal library to read up on the habits of pussy cats. Finally after thinking about the problem he told the King that pussy cats like dark places where they could hide and watch what people were doing. The King said, "The only place like that is the garden tool shed".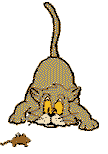 The King raced back to the Queen and they both went to check the tool shed. As they got closer they could hear a MEOOOOOW coming from the shed. No sooner had they opened the door, than out ran Hughie, right between the King's legs. He ran straight to his room where he immediately had a snack and was fast asleep by the time the King and Queen returned to the castle.
When Hughie woke up the next morning, he decided that he would give up trying to teach the King and Queen how to garden and besides, all this work was tiring and taking him away from his main occupation of chasing the birds and mice. So he went to the King and Queen and told them he was sure that they now knew how to garden and that he had more important things to do like sleeping and chasing the birds and mice.