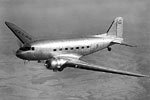 The Douglas DC-3 is considered by some to be the most successful civilian aircraft ever built. The technical innovations included retractable landing gear, wing flaps, variable-pitch propellers, stressed-skin structure and flush riveting. The first airplane flew in 1935. The DC-3 was the first airliner to make a profit by carrying just passengers without the support of mail contracts or other forms of government subsidies. President Franklin D. Roosevelt awarded the Collier Trophy to Donald Douglas Sr., head of Douglas Aircraft, for his achievements on the DC-3.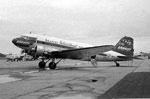 American Airlines was the first to use the DC-3 commercially between New York and Chicago on June 25th 1936 . United Airlines became the second DC-3 customer in November 1936, and KLM in the Netherlands was the first overseas DC-3 user. By the end of 1938, 95 percent of all U.S. commercial airline traffic flew on DC-3s. By 1939, 90 percent of the world's airline traffic was being carried by these aircraft. Douglas built a total of 10,655 of the DC-3 series and about another 2,500 planes were built under license in the Soviet Union and Japan.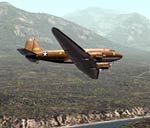 When the war began, many commercial DC-3s were pressed into military service as the C-47. These planes were attractive because of their large load-carrying capacity. Their normal range was 1,500 miles, but adding fuel tanks extended the range. The Army Air Corps became the largest purchaser of DC-3 military derivatives, acquiring some 10,000 aircraft. After the war, a large number of C-47s became surplus and joined the commercial air fleet, seeing use by almost every airline and many militaries around the world.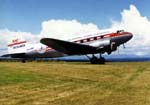 The aircraft has a wing span of 95 feet with an overall length of 64 feet 5 1/2 inches. Its maximum speed is 207 MPH. The maximum altitude is 23,200 feet and a maximum range of 2,125 miles. The DC-3 was powered by two 895-kW Pratt and Whitney R-1830-S1C3G Twin Wasp radials rated at 1200 hp.
The Western Museum of Flight's DC-3, Serial No. 3269, was rolled out at the Douglas plant in Santa Monica on January 17, 1941, and sold to TWA with Civil Aviation Authority license no. NC 1944. In 1956 the air-craft was transferred to the Union Oil Company (Union 76) and the license was changed to N760. Union Oil used the aircraft as an executive transport until it was donated to the California Science Center at Exposition Park in Los Angeles. The Science Center loaned the airplane to WMOF in October, 2001.